Auto Auction Drivers & Block Clerks - PT
Employer

Closes

Jan 31, 2017

Category

Employment Status
Manheim is now hiring in Minneapolis!
PART-TIME BLOCK CLERKS
PART-TIME AUTO AUCTION DRIVERS
MANHEIM– DRIVING A TRILLION DOLLAR INDUSTRY
If you love cars, Manheim is the place to be! Our employees are what make Manheim the company it is - the largest and best automotive remarketing company in the world, with 20,000 employees in 122 operating locations around the globe. Bea part of the team that is transforming the way the world buys, sells and owns cars.
GIVING YOU MORE THAN A PAYCHECK
Block Clerk qualifications: Effective communication, problem solving, and organizational skills; 6 months –1 yr. clerical, office, and/or customer service experience; and 10-key and computer data entry experience. Driver qualifications: Driver's license; good attention to detail and safety; ability to stand, enter, and exit cars during a 4-9 hr. shift; ability to drive automatic and manual
transmissions; ability to pass background check and drug test.
Apply online at: www.manheim.jobs and search for job number
PART-TIME BLOCK CLERK 1616227
PART-TIME AUCTION DRIVER 142056
Manheim is an Equal Opportunity Female/Minority/Disabled/Veteran Employer.
If questions arise while completing the online application please call 1-855-621-8258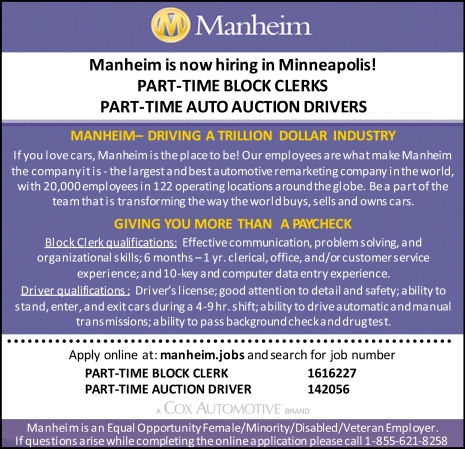 Similar jobs
Eden Prairie, Minnesota
Staffing Partners

Brooklyn Park, Minnesota
$45k-$50k DOQ
Staffing Partners

Minneapolis/St. Paul Minnesota
$14-$18/hr DOQ
Staffing Partners