BROADBAND CONSTRUCTION MANAGER
Employer

Closes

Feb 06, 2017

Category

Employment Status
Mediacom
THE POWER TO SUCCEED
BROADBAND CONSTRUCTION MANAGER
CHANHASSEN, MN
Mediacom Communications is one of the nation's leading cable operators focused on serving the smaller cities and towns in the United States. We are dedicated to keeping jobs in the communities we serve and providing individuals with the Power to Succeed. We are proud that our diversified workforce of over 4,600 employees live and work in the 22 states where we do business.
CURRENTLY SEEKING CANDIDATES FOR OUR BROADBAND CONSTRUCTION MANAGER POSITION IN CHANHASSEN, MN.
We're looking for someone with special expertise to plan, organize and direct the construction operations of all cable systems within the assigned operational area (Minnesota, Iowa, South Dakota, Wisconsin, California, and Arizona).
• 5+ years cable construction environment, including at least two years in management experience.
• Must be expert in the area of construction drawing preparation, transmission design, fieldwork and estimates with complete related work order documentation.
• Must possess expertise in planning, cost-studies, fiber optics, right-of-way negotiation and easement execution.
You will be rewarded with awesome pay and benefits!
APPLY NOW: www.mediacomcable.careers
OR CALL: 507-837-4893
Mediacom Communications is an Equal Opportunity/Affirmative Action Employer. We consider applicants without regard to race, color, religion, age, national origin, ancestry, ethnicity, gender, gender identity, gender expression, sexual orientation, marital status, veteran status, disability, genetic information, citizenship status, or membership in any other group protected by federal, state or local law.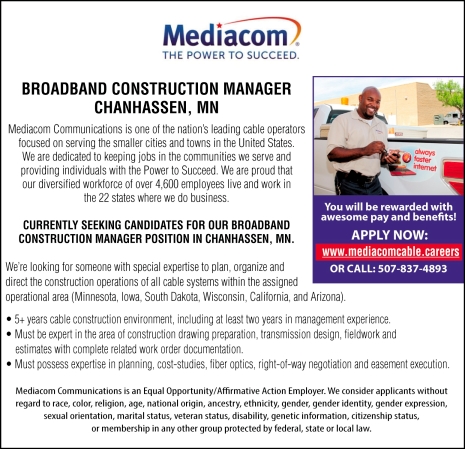 Similar jobs
Eden Prairie, Minnesota
14-16/hour to start. Incentive pay offered with advancement!
Staffing Partners

Eden Prairie, MN
Total Compensation Year One Target $40,000-$45,000
Staffing Partners

Minnetonka, Minnesota
$35,000-$40,000 - D.O.Q. and Experience
Staffing Partners