Physical Therapist
Employer

Closes

Mar 13, 2017

Category

Employment Status
PHYSICAL THERAPIST
Rusk County Memorial Hospital, a Critical Access Hospital situated on a river in the
beautiful recreational area of North Central Wisconsin, has a full-time position for a
Wisconsin licensed Physical Therapist. A well rounded therapist with interest in
many areas of PT practice is a must. We have a strong opportunity for mentorship
and collaboration in our team-based environment with our staff of experienced therapists.
Caseload will be 50% outpatient orthopedic, 50% inpatient/transitional
care. Experience preferred, however, new graduates are also encouraged to apply.
Apply online or email resume:
Rusk County Memorial Hospital
Human Resources Department
900 College Ave., W., Ladysmith, WI 54848
715-532-5561 Ext 1311 • Fax: 715-532-3025
www.ruskhospital.org • HR@Ruskhospital.org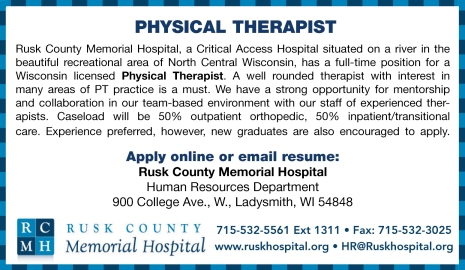 More searches like this