Job Fair South Metro
Employer

Closes

Jul 03, 2017

Category

Employment Status
HELP WANTED! HELP WANTED! HELP WANTED! HELP WANTED!
South Metro Job Fair
Wednesday
June 14, 2017
10:00am to 3:00pm
Mall of America - Rotunda
Interstate 494 & 24th Avenue South
Bloomington, MN 55425
UP TO 60 PARTICIPATING METRO AREA EMPLOYERS
SPONSORS:
This event is jointly sponsored by
Hennepin County, Minnesota Department of Employment and Economic Development, Star Tribune and the Pioneer Press.
We also collaborate with these employment service providers and many more:
• African Community Services
• American Indian OIC • CAPI • CLUES
• East Side Neighborhood Service, Inc.
• EMERGE • Goodwil l Easter Seals
• Hennepin County H.S.P.H.D. & W.E.R.C • HIRED
• Hmong American Partnership
• Jewish Family & Children's Service
• Lifetrack Resources, Inc.
• Lutheran Social Service of MN
• Minnesota Workforce Centers Hennepin County • MVNA Teen Hope Program
• NorthPoint Health & Wellness
• RESOURCE • Rise, Inc.
• Project for Pride In Living – Connections to Work
Please Visit Our Employer Sponsors at the Job Fair:
• Accurate Home Care, LLC.
• ACR Homes/Healthcare
• Atlas Staffing, Inc.
• Colorvision International/Amazing Pictures
• Delaware North
• Durham School Services/SEPTRAN
• Flynn Group of Companies
• GameWorks-Mall ofAmerica
• G4S Secure Solutions
• Lund's & Byerly's
• Macy's
• Masterson Staffing Solutions
• Mediacom Communications Corp.
• Minnesota Coaches, Inc.
• Mystic Lake Casino
• Pro Staff
• SUPERVALU/CUB
• Thrivent Financial
• Trugreen Lawncare
Hiring for careers In:
Accounting, Assembly, Clerical, Construction, Customer Service, Health Care, IT, Management, Manufacturing, Retail, Sales, Security, Transportation,Warehouse and many more.
• Talk to company representatives about current job openings
• Pick up company information
• Complete company application forms
• Learn job responsibilities and performance requirements
• Practice the job-seeking skills that get people hired
You can reach the Minneapolis Convention Center:
• Metro Transit bus routes: 5, 54, 515, 538, 539, 540, 542, the Red Line & Light Rail Transit (LRT).
• MN Valley Transit bus routes: 440, 442, 444 and 445.
• Transit Information Center – 612-373-3333.
For more information visit:
www.destinationjobsmn.com
-CREATE A GOOD IMPRESSION-
Wear appropriate business attire! Bring your resume
FREE! Veterans and Dislocated Workers Welcome OPEN TO THE PUBLIC! FREE!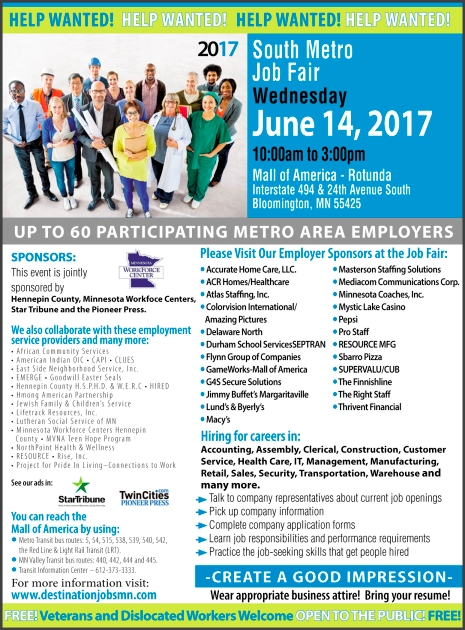 Similar jobs
Minneapolis/St. Paul Minnesota
$40k-$60k- DOQ
Staffing Partners

Burnsville, Minnesota
$15-20/HR (DOQ)
Staffing Partners

Eden Prairie, Minnesota
14-16/hour to start. Incentive pay offered with advancement!
Staffing Partners
More searches like this