Experienced Valve Technicians
Employer

Location

CANNON FALLS, MN

Closes

Oct 09, 2017

Category

Employment Status
EXPERIENCED VALVE TECHNICIANS
Are you to the team at Allied Valve, the Midwest's leading distributor of valves, actuators and services to the petroleum, natural gas and electrical power industries? We are looking for experienced and talented valve technicians to work within our recently remodeled location in Cannon Falls, MN, near Flint Hills Refinery.
Your responsibilities will include:
Repair and set-up of industrial valves, actuator and control valves. A variety of diagnostic devices are used in order to calibrate, test and install all types of industrial valves. You may also travel to customers' facilities in order to diagnose and troubleshoot valves in need of repair
and calibration.
You will be a vital and valued part of our operation. Compensation will be commensurate with your experience and skills. A generous benefits package and respectful working environment also awaits the successful applicant.
Know this before you apply:
At Allied Valve, we are committed to quality work and superior customer service in all aspects of our business. If you share and can deliver on that goal, you should become part of our team.
Apply today.
Allied Valve Inc. Human Resources
6291 318th Street Way
Cannon Falls, MN 55009
or contact Josh at marklevitsj@alliedvalve.com
alliedvalve.com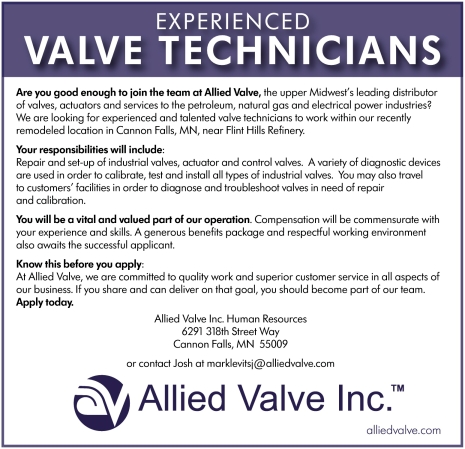 Similar jobs
Cannon Falls , MN
Valley Staffing, Inc.

New

Cannon Falls , MN
Valley Staffing, Inc.

New

Cannon Falls , MN
Valley Staffing, Inc.

New
More searches like this