IT Project and Business Analyst
Employer

Closes

Nov 30, 2017

Category

Employment Status
IT Unit Supervisor
The St. Louis County Information Technology Department is looking for a highly motivated IT Unit Supervisor to manage the day to day work of a team of developers focused on providing custom
coded software applications, GIS support, custom reporting and dash boarding.
Interested applicants can apply online at:
www.stlouiscountymn.gov/jobs
Application Deadline is 11/15/2017
For more information, you may also call:
St. Louis County Human Resources at 218-726-2422.
Equal Opportunity and Veteran-Friendly Employer
www.stlouiscountymn.gov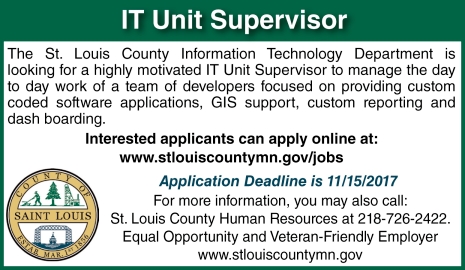 Similar jobs
Aitkin, Minnesota
Farm Island Repair & Marine

Hibbing, Minnesota
George Bougalis and Sons, Co.
More searches like this