F-T and P-T Material Handlers and Warehouse Associates
Employer

Closes

Feb 05, 2018

Category

Employment Status
Material Handlers and Warehouse Associates
Skybridge Americas is growing and are looking for people like you! Opportunities are for both full-time and part-time Material Handlers and Warehouse Associates to make an immediate impact in the success of servicing our customers.
• Greenfield/Rockford MN area
• Full Time, Part Time, Weekends, Evenings, & Days
• $12-$16/hr depending upon experience & shift
• Shift differentials for evenings and weekends
APPLY TODAY at www.skybridgeamericas.com/employment or call 1-855-215-2172 for more information.
Skybridge Americas provides custom, multi-channel fulfillment services, including pick/pack/ship, warehousing, value added services such as kitting and assembly, and more, with a focus on quality, accuracy, and speed. Our deep, dedicated client services team ensures that our client's account is cared for and that service levels are met day in and day out.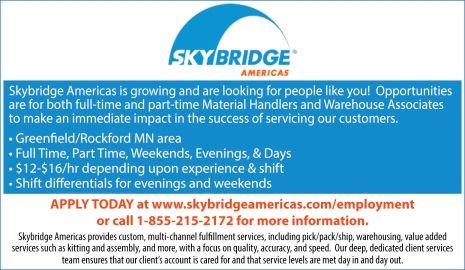 Similar jobs
Ramsey, MN
Up to $30,000/year, PLUS 1 week paid vacation after first yr. $500-$600/wk average, pd every Friday.
Diamond Auto, Inc.

Lakeville, Mn
TreeHouse Private Brands

Lakeville, Mn
TreeHouse Private Brands
More searches like this