FEDEX DRIVERS
Employer

Closes

May 14, 2018

Category

Employment Status
Job Fair
Saturday, April 21st | 10A – 3P
FedEx Freight • 2323 Terminal Rd
Roseville, MN 55113
Begin your career with the FedEx Team and be a part of one of the most well-known and reliable companies in the world.
City Drivers
Job #426008BR
Service Center Support
Part-Time Job #424863B
Driver Apprentice
Job #426009BR
Freight Handler
Full-Time & Part-Time
Job #425718BR (Full-Time)
& #424064BR (Part-Time)
Additional requirements will be found on the website below. Comprehensive benefits package
offered. Get a head start by applying online today at:
www.fedex.com/careers
Equal Opportunity Employer, including disabled and vets.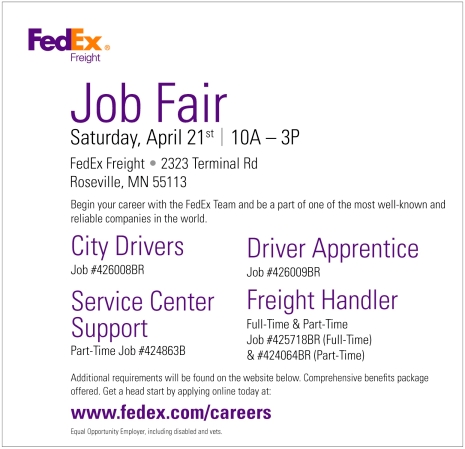 More searches like this